INCREASING CORROSION RESISTANCE OF WELDED JOINTS AS A RESULT OF HEAT TREATMENT
Keywords:
heat resistant alloy; corrosion resistance; intergranular corrosion; welding; structure; soldering
Abstract
Welded joints with corrosion-resistant steels and heat-resistant alloys, which require different modes of heat treatment to achieve the level of mechanical properties specified in the design documentation, are used for the manufacture parts and assemblies of the rocket engine turbopump unit. Problem statement. In the production of rocket engine parts and components, due to difficulties in supplying materials from EU countries, Ukrainian machine-building enterprises have to substitute semi-finished products. It is necessary to replace sheet metal from high-alloy alloys with one alloy with a high complex of physical and mechanical characteristics. Materials and methodology. Inconel 718 alloy is selected as a substitute for heat-resistant alloys in welded joints with 316L steel. Results. As a result of comparative studies for resistance to intergranular corrosion of welded joints of heat-resistant alloy Inconel 718 with stainless steel after different modes of heat treatment the regime of low-temperature heating during soldering at 950 °С is recommended. Samples of welded joints treated according to the recommended mode showed increased corrosion resistance. Scientific novelty. The sensitivity to intergranular corrosion was found to result from the structural heterogeneity of the grain boundaries and the separation of secondary phases. Practical value. On the basis of experimental researches the mode of heat treatment with heating to 950 ± 10 0С, cooling to 300 0С − with the furnace, further − in air, instead of existing high-temperature heating to 1 200 0С is recommended, that promotes energy saving at welding of alloys.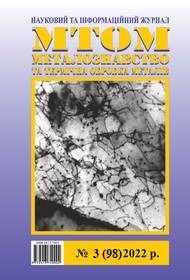 Downloads
Section
Technical science
License
Authors that are published in this journal agree to follow the conditions:
Authors reserve the right to the authorship of his work and cede the right to the journal of first publication of this work on conditions of the license under the Creative Commons Attribution License, which allows others to distribute it freely with the obligatory reference to the author of the original work and the first publication of the work in this journal.