FROM THE EXPERIENCE OF THE GEORADAR SURVEY ON THE SITE LOCATION OF THE CHURCH OF THE NATIVITY OF THE VIRGIN IN THE VILLAGE MALA PETRIKIVKA, DNIPROPETROVSK REGION
Keywords:
ground-penetrating radar; shielded antennas; settling capacity; dielectric constant; electromagnetic pulses; radio waves
Abstract
Problem statement. Ground-penetrating radar tests as a component of territory geophysical investigations are also used in the historical reconstruction − in our case, on the site of the Church of the Nativity of the Virgin in the village of Mala Petrikyvka (Dnipropetrovsk region). A ground-penetrating radar survey was conducted, preceded by a thorough critical analysis of historical sources. Measurements were done using MALA GPR with operating frequencies of 250 MHz and limited to 800 MHz. The purpose of the article. In order to critically reviewing the historical myth that existed for a long time around this architectural monument of the 18th-19th centuries, it was necessary to uncover underground cavities, as well as to conduct a search for hidden ancient structures both in the areas adjacent to the church building and directly inside the church itself. Conclusions. As a result of the conducted research, the features of surface and buried building structures attributed to the dry and moistened loess soils of this territory on GPR profiles were revealed. In areas of moistened loess soil, any objects at working depths at a frequency of 250 MHz were not displayed by the device − due to a high degree of signal attenuation. GPR profiles of this area did not reveal any significant anomalies, which indicate the presence of fairly voluminous linear underground structures, which is confirmed by the survey of the adjacent territory. The conducted investigations can be considered only primary and involve further, more detailed, studies on selected areas, including inside the building itself. Since it was not possible to find information about the previously performed ground-penetrating radar surveys on the territory of the church and the surrounding area, the surveys carried out by PSACEA can be considered the first of their kind. They are especially valuable in view of the fact that a complete restoration of the temple is planned.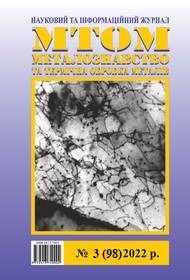 Downloads
Section
Technical science
License
Authors that are published in this journal agree to follow the conditions:
Authors reserve the right to the authorship of his work and cede the right to the journal of first publication of this work on conditions of the license under the Creative Commons Attribution License, which allows others to distribute it freely with the obligatory reference to the author of the original work and the first publication of the work in this journal.