PHASE FORMATION IN THE DIFFUSION ZONE OF TITANIUM − PLATINUM
Keywords:
diffusion zone, intermetallic, mechanical properties, titanium, platinum, diffusion welding in vacuum
Abstract
Formulation of the problem. The technology of different titanium-platinum materials interconnection by means of diffusion welding in vacuum is presented. The diagram of Ti−Pt state was analyzed and the main types of components interaction were determined. It was found that formation of the welded joint through the growth of the diffusion zone in the titanium by the successive growth of intermetal Ti3Pt, TiPt, TiPt3 balls as well as zones of solid solutions. Materials and methodology. The microstructure analysis, microhardness measurement, phase composition definition on the DRON-1.5 allowed to determine the phase composition of platinum − titanium compound and the width of each zone. Results. Welding parameters influence weld quality. It is possible to change the overall width of the diffusion zone as well as that of individual joints by changing the welding cycle time. Thus, the determination of the mechanical properties of the joint obtained by diffusion welding in vacuum, allows setting the optimum operating time. Scientific novelty. It was found that the phase composition and length of intermetal zones depend on the welding parameters and influence the quality of the titanium − platinum joint achieved by diffusion welding under vacuum. Practical significance. Based on experimental investigations, a diffusion welding procedure in vacuum is recommended: T = 1 138 K, P = 6, 37 MPa, τ = 1 800 s.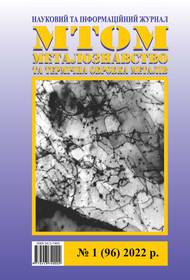 Downloads
Section
Technical science
License
Authors that are published in this journal agree to follow the conditions:
Authors reserve the right to the authorship of his work and cede the right to the journal of first publication of this work on conditions of the license under the Creative Commons Attribution License, which allows others to distribute it freely with the obligatory reference to the author of the original work and the first publication of the work in this journal.